Here's our annual round up of all our publications in the Cochrane Library this year. In 2020 we published 10 new reviews, 1 updated review and 8 new protocols. These are all listed below along with any linked resources including Cochrane clinical answers and podcasts.

We also prepared a number of PDF summaries of reviews with potential relevance to pandemic situations such as COVID-19. Please find those here: https://epoc.cochrane.org/our-reviews/summaries-selected-reviews/covid-19-relevant-summaries

Thanks to all the authors, editors, managing editors, information specialists and everyone else involved in all of our 2020 reviews.

Find all our published reviews on the Cochrane Library.

New reviews

Improving vaccination uptake among adolescents
Leila H Abdullahi, Benjamin M Kagina, Valantine Ngum Ndze, Gregory D Hussey, Charles S Wiysonge
https://www.cochranelibrary.com/cdsr/doi/10.1002/14651858.CD011895.pub2/full

Death audits and reviews for reducing maternal, perinatal and child mortality
Merlin L Willcox, Jessica Price, Sophie Scott, Brian D Nicholson, Beth Stuart, Nia W Roberts, Helen Allott, Vincent Mubangizi, Alexandre Dumont, Anthony Harnden
https://www.cochranelibrary.com/cdsr/doi/10.1002/14651858.CD012982.pub2/full
What are the effects?
PDF summary
Health workers' perceptions and experiences of using mHealth technologies to deliver primary healthcare services: a qualitative evidence synthesis
Willem A Odendaal, Jocelyn Anstey Watkins, Natalie Leon, Jane Goudge, Frances Griffiths, Mark Tomlinson, Karen Daniels
https://www.cochranelibrary.com/cdsr/doi/10.1002/14651858.CD011942.pub2/full
Implementation considerations:
PDF summary

Cochrane clinical answers:
What are health workers' perceptions and experiences of using mHealth technologies to deliver primary healthcare services?
https://www.cochranelibrary.com/cca/doi/10.1002/cca.3094/full

Podcast:
https://www.cochranelibrary.com/cdsr/doi/10.1002/14651858.CD011942.pub2/related-content/podcast/66891/

Featured in Cochrane special collection:
Coronavirus (COVID-19): remote care through telehealth
https://www.cochranelibrary.com/collections/doi/SC000043/full

Video summary on Twitter:
https://twitter.com/CochraneUK/status/1277620736883130371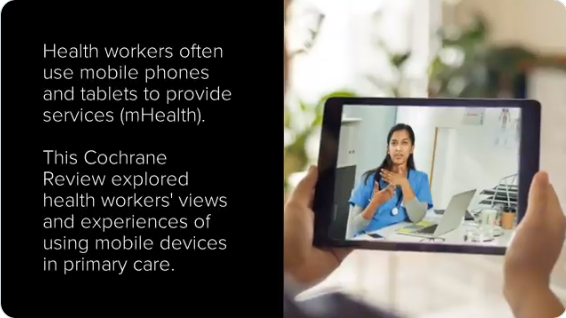 Patient‐initiated appointment systems for adults with chronic conditions in secondary care
Rebecca Whear, Joanna Thompson‐Coon, Morwenna Rogers, Rebecca A Abbott, Lindsey Anderson, Obioha Ukoumunne, Justin Matthews, Victoria A Goodwin, Simon Briscoe, Mark Perry, Ken Stein
https://www.cochranelibrary.com/cdsr/doi/10.1002/14651858.CD010763.pub2/full
Podcast:
https://www.cochranelibrary.com/cdsr/doi/10.1002/14651858.CD010763.pub2/related-content/podcast/66903/
Barriers and facilitators to healthcare workers' adherence with infection prevention and control (IPC) guidelines for respiratory infectious diseases: a rapid qualitative evidence synthesis
Catherine Houghton, Pauline Meskell, Hannah Delaney, Mike Smalle, Claire Glenton, Andrew Booth, Xin Hui S Chan, Declan Devane, Linda M Biesty
https://www.cochranelibrary.com/cdsr/doi/10.1002/14651858.CD013582/full
Implementation considerations:
PDF summary in English
PDF summaries in other languages

One page summary infographic created by Evidence Synthesis Ireland:
https://pbs.twimg.com/media/EWJIkZEXYAI6JBh?format=jpg&name=large

Cochrane clinical answers:
What are the organizational, environmental, and individual barriers and facilitators affecting healthcare workers' adherence to infection prevention and control (IPC) guidelines for respiratory infectious diseases?
https://www.cochranelibrary.com/cca/doi/10.1002/cca.3067/full

Podcast:
https://www.cochranelibrary.com/cdsr/doi/10.1002/14651858.CD013582/related-content/podcast/65296/

Featured in Cochrane special collection:
Coronavirus (COVID-19): infection control and prevention measures
https://www.cochranelibrary.com/collections/doi/SC000040/full
Evidently Cochrane blog:
Personal protective equipment (PPE) for healthcare workers: new Cochrane evidence
https://www.evidentlycochrane.net/personal-protective-equipment/
Video summary on Twitter (created by Evidence Aid):
https://twitter.com/EvidenceAid/status/1252892390538522625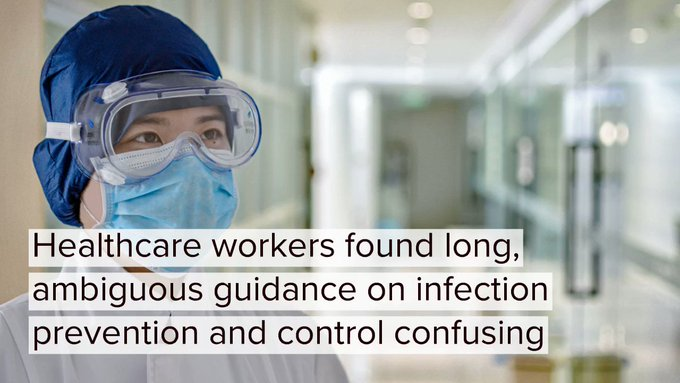 Routine Health Information System (RHIS) improvements for strengthened health system management
Natalie Leon, Yusentha Balakrishna, Ameer Hohlfeld, Willem A Odendaal, Bey-Marrié Schmidt, Virginia Zweigenthal, Jocelyn Anstey Watkins, Karen Daniels
https://www.cochranelibrary.com/cdsr/doi/10.1002/14651858.CD012012.pub2/full

Mobile technologies to support healthcare provider to healthcare provider communication and management of care
Daniela C Gonçalves-Bradley, Ana Rita J Maria, Ignacio Ricci-Cabello, Gemma Villanueva, Marita S Fønhus, Claire Glenton, Simon Lewin, Nicholas Henschke, Brian S Buckley, Garrett L Mehl, Tigest Tamrat, Sasha Shepperd
https://www.cochranelibrary.com/cdsr/doi/10.1002/14651858.CD012927.pub2/full
Cochrane clinical answers:
What are the effects of mobile technologies used in emergency departments?
https://www.cochranelibrary.com/cca/doi/10.1002/cca.3317/full
    
What are the effects of mobile technologies used by community health workers?
https://www.cochranelibrary.com/cca/doi/10.1002/cca.3318/full
Implementation interventions to promote the uptake of evidence‐based practices in stroke rehabilitation
Liana S Cahill, Leeanne M Carey, Natasha A Lannin, Megan Turville, Cheryl L Neilson, Elizabeth A Lynch, Carol E McKinstry, Jia Xi Han, Denise O'Connor
https://www.cochranelibrary.com/cdsr/doi/10.1002/14651858.CD012575.pub2/full

Tracking health commodity inventory and notifying stock levels via mobile devices: a mixed methods systematic review
Smisha Agarwal, Claire Glenton, Nicholas Henschke, Tigest Tamrat, Hanna Bergman, Marita S Fønhus, Garrett L Mehl, Simon Lewin
https://www.cochranelibrary.com/cdsr/doi/10.1002/14651858.CD012907.pub2/full
Effects and implementation considerations:
PDF summary
Interventions to support the resilience and mental health of frontline health and social care professionals during and after a disease outbreak, epidemic or pandemic: a mixed methods systematic review
Alex Pollock, Pauline Campbell, Joshua Cheyne, Julie Cowie, Bridget Davis, Jacqueline McCallum, Kris McGill, Andrew Elders, Suzanne Hagen, Doreen McClurg, Claire Torrens, Margaret Maxwell
https://www.cochranelibrary.com/cdsr/doi/10.1002/14651858.CD013779/full
Effects and implementation considerations:
PDF summary

Cochrane clinical answers:
What intervention, organizational and individual characteristics impact the implementation of interventions to support frontline health and social care professionals during and after a disease outbreak, epidemic, or pandemic?
https://www.cochranelibrary.com/cca/doi/10.1002/cca.3392/full
Podcast:
https://www.cochrane.org/podcasts/10.1002/14651858.CD013779
Featured in Cochrane special collection:
Coronavirus (COVID-19): support for wellbeing in the healthcare workforce
https://www.cochranelibrary.com/collections/doi/SC000045/full
Video summary on Twitter:
https://twitter.com/CochraneLibrary/status/1324406656600543238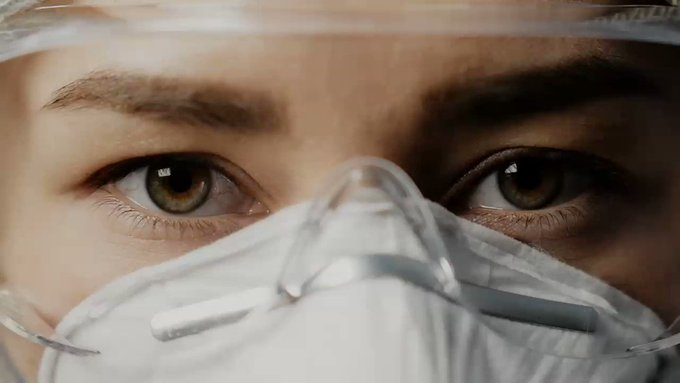 Updated reviews

Printed educational materials: effects on professional practice and healthcare outcomes
Anik Giguère, Hervé Tchala Vignon Zomahoun, Pierre-Hugues Carmichael, Claude Bernard Uwizeye, France Légaré, Jeremy M Grimshaw, Marie-Pierre Gagnon, David U Auguste, José Massougbodji
https://www.cochranelibrary.com/cdsr/doi/10.1002/14651858.CD004398.pub4/full
Cochrane clinical answers:
Does RCT evidence show that printed educational materials for healthcare professionals alter healthcare     professionals' practice and/or patient outcomes?
https://www.cochranelibrary.com/cca/doi/10.1002/cca.3371/full
New protocols

Healthcare workers' perceptions and experience of primary healthcare integration: a qualitative evidence synthesis
Hlengiwe Moloi, Karen Daniels, Sara Cooper, Willem A Odendaal, Tracey Naledi, Charlyn Goliath, Natalie Leon
https://www.cochranelibrary.com/cdsr/doi/10.1002/14651858.CD013603/full

Substitution of nurses for physicians in the hospital setting for patient, process of care, and economic outcomes
Michelle Butler, Timothy J Schultz, Jonathan Drennan
https://www.cochranelibrary.com/cdsr/doi/10.1002/14651858.CD013616/full

Experiences of conditional and unconditional cash transfers intended for improving health outcomes and health service use: a qualitative evidence synthesis
Salla Atkins, Kristi Sidney-Annerstedt, Kerri Viney, Tom Wingfield, Delia Boccia, Knut Lönnroth
https://www.cochranelibrary.com/cdsr/doi/10.1002/14651858.CD013635/full

Healthcare workers' perceptions and experiences of communicating with people over 50 about vaccination: a qualitative evidence synthesis
Claire Glenton, Brita Askeland Winje, Benedicte Carlsen, Renske Eilers, Manuela Dominique Wennekes, Simon Lewin
https://www.cochranelibrary.com/cdsr/doi/10.1002/14651858.CD013706/full

Interventions to reduce non‐prescription antimicrobial sales in community pharmacies
Moe Moe Thandar, Toshiaki Baba, Sadatoshi Matsuoka, Erika Ota
https://www.cochranelibrary.com/cdsr/doi/10.1002/14651858.CD013722/full

Pharmaceutical policies: effects of policies regulating drug marketing
Izabela Fulone, Cathal A Cadogan, Cristóbal Cuadrado, Silvio Barberato-Filho, Cristiane C Bergamaschi, Lauren Giustti Mazzei, Marcus T Silva, Luciane C Lopes
https://www.cochranelibrary.com/cdsr/doi/10.1002/14651858.CD013780/full

Pharmacists providing prescribing advice and education to healthcare professionals in community, primary care and outpatient settings
Zahraa Jalal, Ejaz Cheema, Muhammad Abdul Hadi, Pawana Sharma, Derek Stewart, Abdullah Al Hamid, Mohammed S Haque, Patrick V Moore, Vibhu Paudyal
https://www.cochranelibrary.com/cdsr/doi/10.1002/14651858.CD013793/full

Perceptions and experiences of the prevention, identification and management of postpartum haemorrhage: a qualitative evidence synthesis
Shahinoor Akter, Fabiana Lorencatto, Gillian Forbes, Suellen Miller, Fernando Althabe, Arri Coomarasamy, Ioannis D Gallos, Olufemi T Oladapo, Joshua P Vogel, Eleanor Thomas, Meghan A Bohren
https://www.cochranelibrary.com/cdsr/doi/10.1002/14651858.CD013795/full


Top of page