Here's our annual round up of all our publications in the Cochrane Library this year. In 2018 we published 9 new reviews, 8 updated reviews and 8 new protocols. These are all listed below along with additional resources including podcasts, blogshots, videos and Cochrane clinical answers.
Thanks to all the authors, editors, managing editors, information specialists and everyone else involved in all of our 2018 reviews.
Find all our published reviews on the Cochrane Library here.
New reviews

Providing physicians with feedback on medication adherence for people with chronic diseases taking long-term medication
Zaugg V, Korb-Savoldelli V, Durieux P, Sabatier B
https://www.cochranelibrary.com/cdsr/doi/10.1002/14651858.CD012042.pub2

E-learning for health professionals
Vaona A, Banzi R, Kwag KH, Rigon G, Cereda D, Pecoraro V, Tramacere I, Moja L
https://www.cochranelibrary.com/cdsr/doi/10.1002/14651858.CD011736.pub2

Comprehensive geriatric assessment for older people admitted to a surgical service
Eamer G, Taheri A, Chen SS, Daviduck Q, Chambers T, Shi X, Khadaroo RG
https://www.cochranelibrary.com/cdsr/doi/10.1002/14651858.CD012485.pub2
Cochrane Clinical Answers
For older people admitted to hospital for surgery, how does comprehensive geriatric assessment compare with standard care in improving outcomes?
https://www.cochranelibrary.com/cca/doi/10.1002/cca.2009/full
Jane Burch, Michael Eisenhut | 30 July 2018
Improving adherence to Standard Precautions for the control of health care-associated infections
Moralejo D, El Dib R, Prata RA, Barretti P, Corrêa I
https://www.cochranelibrary.com/cdsr/doi/10.1002/14651858.CD010768.pub2

Hospitalisation in short-stay units for adults with internal medicine diseases and conditions
Strøm C, Stefansson JS, Fabritius ML, Rasmussen LS, Schmidt TA, Jakobsen JC
https://www.cochranelibrary.com/cdsr/doi/10.1002/14651858.CD012370.pub2

 Blogshot (Cochrane UK)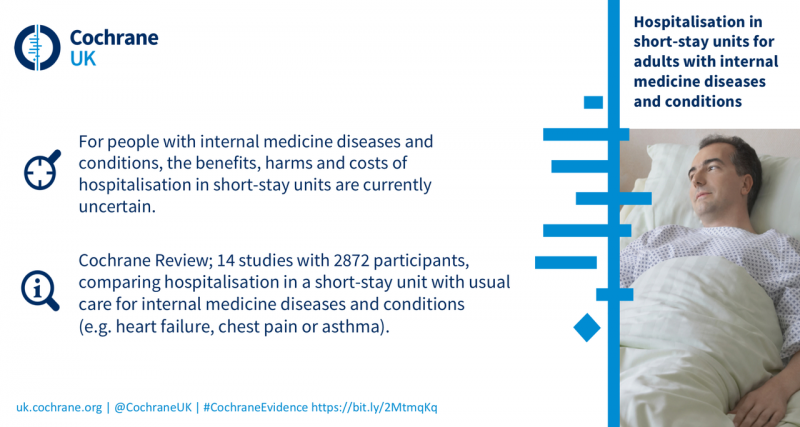 Impact of medication reconciliation for improving transitions of care
Redmond P, Grimes TC, McDonnell R, Boland F, Hughes C, Fahey T
https://www.cochranelibrary.com/cdsr/doi/10.1002/14651858.CD010791.pub2

Pharmacist services for non-hospitalised patients
de Barra M, Scott CL, Scott NW, Johnston M, de Bruin M, Nkansah N, Bond CM, Matheson CI, Rackow P, Williams AJ, Watson MC
https://www.cochranelibrary.com/cdsr/doi/10.1002/14651858.CD013102
Video (University of Bath)


Patient-mediated interventions to improve professional practice
Fønhus MS, Dalsbø TK, Johansen M, Fretheim A, Skirbekk H, Flottorp SA.
https://www.cochranelibrary.com/cdsr/doi/10.1002/14651858.CD012472.pub2
Interview with Therese Kristine Dalsbø and Marita Sporstol Fønhus at CochraneForAll (the National Elf Service):
https://soundcloud.com/national-elf-service/therese-kristine-dalsbo-and?in=national-elf-service/sets/cochrane-for-all
Follow-up services for improving long-term outcomes in intensive care unit (ICU) survivors
Schofield-Robinson OJ, Lewis SR, Smith AF, McPeake J, Alderson P
https://www.cochranelibrary.com/cdsr/doi/10.1002/14651858.CD012701.pub2/full

Updated reviews

Patient reminder and recall interventions to improve immunization rates
Jacobson Vann JC, Jacobson RM, Coyne-Beasley T, Asafu-Adjei JK, Szilagyi PG
https://www.cochranelibrary.com/cdsr/doi/10.1002/14651858.CD003941.pub3
Cochrane Clinical Answers
What are the effects of patient reminders and recall on uptake of routine immunizations or influenza vaccinations?
https://www.cochranelibrary.com/cca/doi/10.1002/cca.2062/full
Jane Burch, Michael Eisenhut | 7 May 2018
   
Video (Cochrane UK)
https://www.tumblr.com/video/cochraneblogshots/169845257650/700/
Primary care professionals providing non-urgent care in hospital emergency departments
Gonçalves-Bradley D, Khangura JK, Flodgren G, Perera R, Rowe BH, Shepperd S
https://www.cochranelibrary.com/cdsr/doi/10.1002/14651858.CD002097.pub4
Cochrane Clinical Answers
How do outcomes compare for people attended by general practitioners (GPs) or emergency physicians in hospital emergency departments?
https://www.cochranelibrary.com/cca/doi/10.1002/cca.2217/full
Jane Burch, Sera Tort | 23 August 2018


Contracting out to improve the use of clinical health services and health outcomes in low- and middle-income countries
Odendaal WA, Ward K, Uneke J, Uro-Chukwu H, Chitama D, Balakrishna Y, Kredo T
https://www.cochranelibrary.com/cdsr/doi/10.1002/14651858.CD008133.pub2

Interventions for increasing the use of shared decision making by healthcare professionals
Légaré F, Adekpedjou R, Stacey D, Turcotte S, Kryworuchko J, Graham ID, Lyddiatt A, Politi MC, Thomson R, Elwyn G, Donner-Banzhoff N
https://www.cochranelibrary.com/cdsr/doi/10.1002/14651858.CD006732.pub4


Podcast
A review of activities to help healthcare professionals share decisions about care with their patients
https://www.cochranelibrary.com/cdsr/doi/10.1002/14651858.CD006732.pub4/related-content/podcast/56554

Cochrane Clinical Answers
Compared with usual care, how do interventions for increasing shared decision‐making impact affective‐cognitive and health outcomes?
https://www.cochranelibrary.com/cca/doi/10.1002/cca.2267/full
Jane Burch, Michael Eisenhut | 29 October 2018


Nurses as substitutes for doctors in primary care
Laurant M, van der Biezen M, Wijers N, Watananirun K, Kontopantelis E, van Vught AJAH
https://www.cochranelibrary.com/cdsr/doi/10.1002/14651858.CD001271.pub3


Cochrane Clinical Answers
What are the effects when nurses rather than physicians act as first contact in primary care?
https://www.cochranelibrary.com/cca/doi/10.1002/cca.2276/full
Jane Burch, Adarsh Gupta | 23 October 2018

Blogshot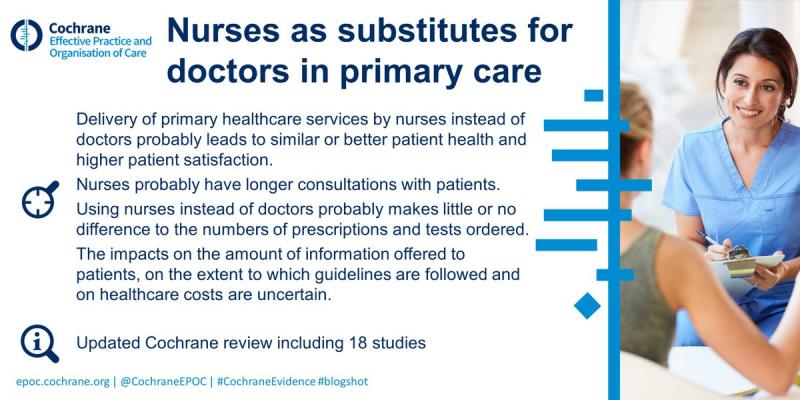 Interventions to improve the appropriate use of polypharmacy for older people
Rankin A, Cadogan CA, Patterson SM, Kerse N, Cardwell CR, Bradley MC, Ryan C, Hughes C
https://www.cochranelibrary.com/cdsr/doi/10.1002/14651858.CD008165.pub4

Impact of public release of performance data on the behaviour of healthcare consumers and providers
Metcalfe D, Rios Diaz AJ, Olufajo OA, Massa MS, Ketelaar NABM, Flottorp SA., Perry DC
https://www.cochranelibrary.com/cdsr/doi/10.1002/14651858.CD004538.pub3

Non-clinical interventions for reducing unnecessary caesarean section
Chen I, Opiyo N, Tavender E, Mortazhejri S, Rader T, Petkovic J, Yogasingam S, Taljaard M, Agarwal S, Laopaiboon M, Wasiak J, Khunpradit S, Lumbiganon P, Gruen RL, Betran AP
https://www.cochranelibrary.com/cdsr/doi/10.1002/14651858.CD005528.pub3/full

New protocols

Birth and death notification via mobile devices
Vasudevan L, Henschke N, Glenton C, Lewin S, Maayan N, Eyers J, Fønhus MS, Tamrat T, Mehl GL
https://www.cochranelibrary.com/cdsr/doi/10.1002/14651858.CD012909

Digital tracking, provider decision support systems, and targeted client communication via mobile devices to improve primary health care
Agarwal S, Vasudevan L, Tamrat T, Glenton C, Lewin S, Bergman H, Henschke N, Mehl GL, Fønhus MS
https://www.cochranelibrary.com/cdsr/doi/10.1002/14651858.CD012925

Mobile-based technologies to support client to healthcare provider communication and management of care
Gonçalves-Bradley DC, Buckley BS, Fønhus MS, Glenton C, Henschke N, Lewin S, Maayan N, Mehl GL, Tamrat T, Shepperd S
https://www.cochranelibrary.com/cdsr/doi/10.1002/14651858.CD012928

Mobile-based technologies to support healthcare provider to healthcare provider communication and management of care
Gonçalves-Bradley DC, Buckley BS, Fønhus MS, Glenton C, Henschke N, Lewin S, Maayan N, Mehl GL, Tamrat T, Shepperd S
https://www.cochranelibrary.com/cdsr/doi/10.1002/14651858.CD012927

Tracking health commodity inventory and notifying stock levels via mobile devices
Agarwal S, Tamrat T, Fønhus MS, Henschke N, Bergman H, Mehl GL, Glenton C, Lewin S
https://www.cochranelibrary.com/cdsr/doi/10.1002/14651858.CD012907

Decision-support tools via mobile devices to improve quality of care in primary healthcare settings
Agarwal S, Tamrat T, Glenton C, Lewin S, Henschke N, Maayan N, Fønhus MS, Mehl GL
https://www.cochranelibrary.com/cdsr/doi/10.1002/14651858.CD012944

Death audits and reviews for reducing maternal, perinatal and child mortality
Willcox ML, Nicholson BD, Price J, Stuart B, Roberts NW, Allott H, Mubangizi V, Dumont A, Harnden A
https://www.cochranelibrary.com/cdsr/doi/10.1002/14651858.CD012982

Case management for integrated care of frail older people in community settings
Sadler E, Khadjesari Z, Ziemann A, Sheehan K, Whitney J, Wilson D, Bakolis I, Sevdalis N, Sandall J
https://www.cochranelibrary.com/cdsr/doi/10.1002/14651858.CD013088/full