Time for a look back at all our publications in the Cochrane Library during 2016. We published 19 new or updated reviews and 8 protocols, all listed below (or see all our reviews on the Cochrane Library here).
First a few selected highlights....
Two of our reviews from last year have podcasts:
Interventions to optimise prescribing for older people in care homes.
Podcast: http://www.cochrane.org/podcasts/10.1002/14651858.CD009095.pub3
Interventions for improving outcomes in patients with multimorbidity in primary care and community settings.
Podcast: http://www.cochrane.org/podcasts/10.1002/14651858.CD006560.pub3
One was blogged on Evidently Cochrane:
Transition: Making jumping off a cliff easier and safer!
http://www.evidentlycochrane.net/transition-jumping-off-cliff-easier/
One was featured on the main Cochrane.org website:
Interventions to reduce corruption in the health sector.
Featured review on Cochrane.org here: http://www.cochrane.org/news/featured-review-interventions-reduce-corruption-health-sector
Towards the end of the year one review became a big hit on social media boosting it's Almetric Attention Score to 281 (to date) in just the last 5 weeks of the year.
Non-medical prescribing versus medical prescribing for acute and chronic disease management in primary and secondary care
https://wiley.altmetric.com/details/13883949
Thanks to all the authors, editors, managing editors and information specialists involved in all our 2016 reviews.
Reviews
Discharge planning from hospital.
Gonçalves-Bradley DC, Lannin NA, Clemson LM, Cameron ID, Shepperd S.
http://onlinelibrary.wiley.com/doi/10.1002/14651858.CD000313.pub5/abstract
Online Publication Date:  January 2016
Blogshot: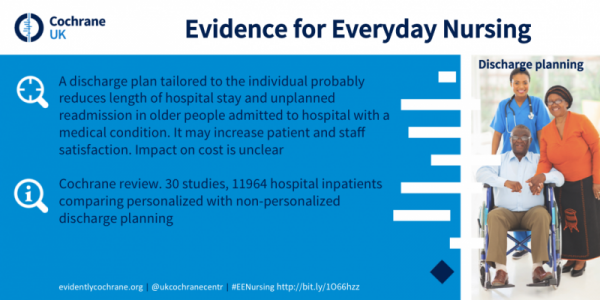 Vlogshot:
Interventions to optimise prescribing for older people in care homes.
Alldred DP, Kennedy M-C, Hughes C, Chen TF, Miller P.
http://onlinelibrary.wiley.com/doi/10.1002/14651858.CD009095.pub3/abstract
Online Publication Date: February 2016
Podcast: http://www.cochrane.org/podcasts/10.1002/14651858.CD009095.pub3
Hospital at home: home-based end-of-life care.
Shepperd S, Gonçalves-Bradley DC, Straus SE, Wee B.
http://onlinelibrary.wiley.com/doi/10.1002/14651858.CD009231.pub2/abstract
Online Publication Date: February 2016
Medication review in hospitalised patients to reduce morbidity and mortality.
Christensen M, Lundh A.
http://onlinelibrary.wiley.com/doi/10.1002/14651858.CD008986.pub3/abstract
Online Publication Date: February 2016
Subsidising artemisinin-based combination therapy in the private retail sector.
Opiyo N, Yamey G, Garner P.
http://onlinelibrary.wiley.com/doi/10.1002/14651858.CD009926.pub2/abstract
Online Publication Date: March 2016
Interventions for improving outcomes in patients with multimorbidity in primary care and community settings.
Smith SM, Wallace E, O'Dowd T, Fortin M.
http://onlinelibrary.wiley.com/doi/10.1002/14651858.CD006560.pub3/abstract
Online Publication Date: March 2016
Podcast: http://www.cochrane.org/podcasts/10.1002/14651858.CD006560.pub3
Organising healthcare services for persons with an intellectual disability.
Balogh R, McMorris CA, Lunsky Y, Ouellette-Kuntz H, Bourne L, Colantonio A et al.
http://onlinelibrary.wiley.com/doi/10.1002/14651858.CD007492.pub2/abstract
Online Publication Date: April 2016
Blogshot: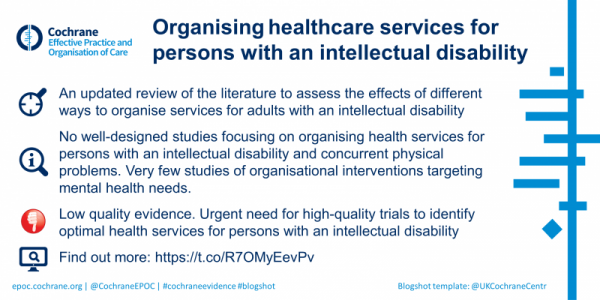 Transition of care for adolescents from paediatric services to adult health services.
Campbell F, Biggs K, Aldiss SK, O'Neill PM, Clowes M, McDonagh J et al.
http://onlinelibrary.wiley.com/doi/10.1002/14651858.CD009794.pub2/abstract
Online Publication Date: April 2016
Evidently Cochrane Blog:
Transition: Making jumping off a cliff easier and safer! http://www.evidentlycochrane.net/transition-jumping-off-cliff-easier/
Blogshot:


Professional interventions for general practitioners on the management of musculoskeletal conditions.
Tzortziou BV, Underwood M, Mohamed N, Westwood O, Morrissey D.
http://onlinelibrary.wiley.com/doi/10.1002/14651858.CD007495.pub2/abstract
Online Publication Date: May 2016
Blogshot: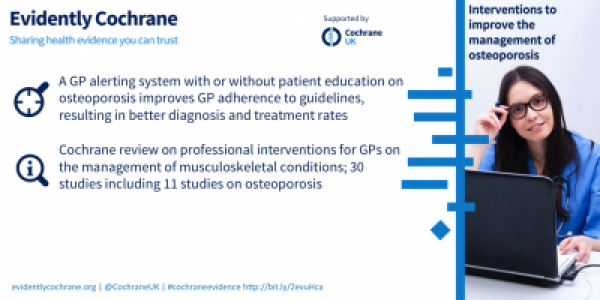 Integrated management of childhood illness (IMCI) strategy for children under five.
Gera T, Shah D, Garner P, Richardson M, Sachdev HS.
http://onlinelibrary.wiley.com/doi/10.1002/14651858.CD010123.pub2/abstract
Online Publication Date: June 2016
Blogshot: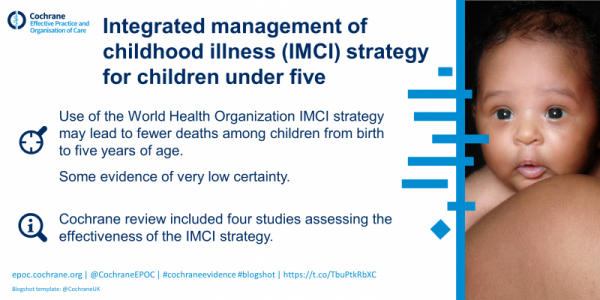 Interventions for improving coverage of childhood immunisation in low- and middle-income countries.
Oyo-Ita A, Wiysonge CS, Oringanje C, Nwachukwu CE, Oduwole O, Meremikwu MM.
http://onlinelibrary.wiley.com/doi/10.1002/14651858.CD008145.pub3/abstract
Online Publication Date:  July 2016
Mobile clinics for women's and children's health.
Abdel-Aleem H, El-Gibaly OM, El-Gazzar AF-S, Al-Attar GS.
http://onlinelibrary.wiley.com/doi/10.1002/14651858.CD009677.pub2/abstract
Online Publication Date:  August 2016
Public stewardship of private for-profit healthcare providers in low- and middle-income countries.
Wiysonge CS, Abdullahi LH, Ndze VN, Hussey GD.
http://onlinelibrary.wiley.com/doi/10.1002/14651858.CD009855.pub2/abstract
Online Publication Date:  August 2016
Interventions to reduce corruption in the health sector.
Gaitonde R, Oxman AD, Okebukola PO, Rada G.
http://onlinelibrary.wiley.com/doi/10.1002/14651858.CD008856.pub2/abstract
Online Publication Date:  August 2016
Featured review on Cochrane.org here: http://www.cochrane.org/news/featured-review-interventions-reduce-corruption-health-sector
Tools developed and disseminated by guideline producers to promote the uptake of their guidelines.
Flodgren G, Hall AM, Goulding L, Eccles MP, Grimshaw JM, Leng GC et al.
http://onlinelibrary.wiley.com/doi/10.1002/14651858.CD010669.pub2/abstract
Online Publication Date:  August 2016
Interventions to increase or decrease the length of primary care physicians' consultation.
Wilson AD, Childs S, Gonçalves-Bradley DC, Irving GJ.
http://onlinelibrary.wiley.com/doi/10.1002/14651858.CD003540.pub3/abstract
Online Publication Date:  August 2016
Admission avoidance hospital at home.
Shepperd S, Iliffe S, Doll HA, Clarke MJ, Kalra L, Wilson AD et al.
http://onlinelibrary.wiley.com/doi/10.1002/14651858.CD007491.pub2/abstract
Online Publication Date: September 2016
Non-medical prescribing versus medical prescribing for acute and chronic disease management in primary and secondary care.
Weeks G, George J, Maclure K, Stewart D.
http://onlinelibrary.wiley.com/doi/10.1002/14651858.CD011227.pub2/abstract
Online Publication Date:  November 2016
Blogshot: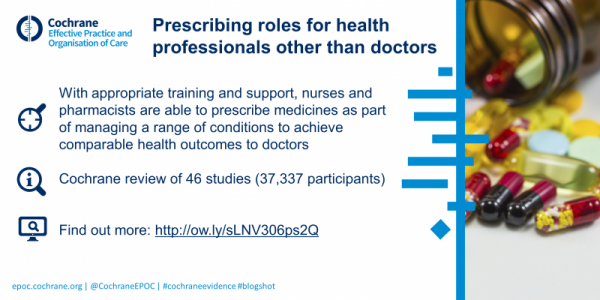 External inspection of compliance with standards for improved healthcare outcomes.
Flodgren G, Gonçalves-Bradley DC, Pomey M-P.
http://onlinelibrary.wiley.com/doi/10.1002/14651858.CD008992.pub3/abstract
Online Publication Date:  December 2016
Protocols
Providing physicians with feedback on medication adherence. Effect on processes of care and patient outcomes.
Zaugg V, Savoldelli V, Durieux P, Sabatier B.
http://onlinelibrary.wiley.com/doi/10.1002/14651858.CD012042/abstract
Online Publication Date: January 2016
Emergency training for in-hospital-based healthcare providers: effects on clinical practice and patient outcomes.
Merriel A, van dNHA, Lenguerrand E, Chung Y, Soar J, Ficquet J et al.
http://onlinelibrary.wiley.com/doi/10.1002/14651858.CD012177/abstract
Online Publication Date: May 2016
Hospitalisation in short-stay units for internal medicine diseases and conditions.
Strøm C, Fabritius ML, Rasmussen LS, Schmidt TA, Jakobsen JC.
http://onlinelibrary.wiley.com/doi/10.1002/14651858.CD012370/abstract
Online Publication Date: September 2016
Factors that influence the uptake of routine antenatal services by pregnant women: a qualitative evidence synthesis.
Downe S, Finlayson K, Tunçalp Ö, Gülmezoglu AM.
http://onlinelibrary.wiley.com/doi/10.1002/14651858.CD012392/abstract
Online Publication Date:  October 2016
Strategies to prevent oral disease in dependent older people.
Brocklehurst P, Williams L, Hoare Z, Goodwin T, McKenna G, Tsakos G et al.
http://onlinelibrary.wiley.com/doi/10.1002/14651858.CD012402/abstract
Online Publication Date:  October 2016
Follow-up strategies following completion of primary cancer treatment in adult cancer survivors.
Høeg BL, Bidstrup PE, Allerslev HT, Dalton SO, Saltbæk L, Karlsen RV et al.
http://onlinelibrary.wiley.com/doi/10.1002/14651858.CD012425/abstract
Online Publication Date:  November 2016
Perceptions and experiences of labour companionship: a qualitative evidence synthesis.
Bohren MA, Munthe-Kaas H, Berger BO, Allanson EE, Tunçalp Ö.
http://onlinelibrary.wiley.com/doi/10.1002/14651858.CD012449/abstract
Online Publication Date:  December 2016
Patient-mediated interventions to improve professional practice.
Fønhus MS, Dalsbø TK, Johansen M, Fretheim A, Skirbekk H, Flottorp S.
http://onlinelibrary.wiley.com/doi/10.1002/14651858.CD012472/abstract
Online Publication Date:  December 2016