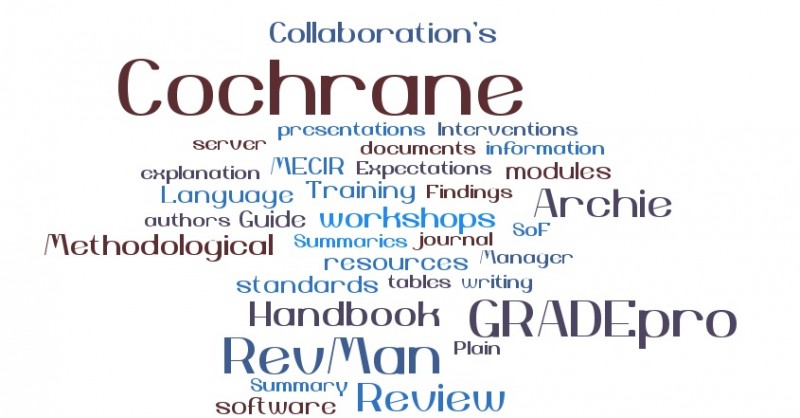 Cochrane Handbook for Systematic Reviews of Interventions - the official guide to producing Cochrane reviews.
RevMan
RevMan Web is the recommended review-writing software for Cochrane intervention reviews and flexible reviews. You can log in to RevMan Web at: revman.cochrane.org to confirm if your review is available for editing. The RevMan web knowledge base can help you get started with using RevMan web.
Archie
Archie is Cochrane's central server for managing documents and contacts details. When you become an author on a Cochrane systematic review, you will need a Cochrane account (formerly known as an Archie account).
Editorial policies for publications on the Cochrane Database of Systematic Reviews are listed here: https://www.cochranelibrary.com/cdsr/editorial-policies
GRADEpro - (GRADEprofiler) is the software used to create Summary of Findings (SoF) tables in Cochrane systematic reviews.
Cochrane Style Guide - compare your Cochrane Review against the official style guide
Re-publishing of reviews - explanation of procedures and permission form if you wish to re-publish your review in another scientific journal.
MECIR - Cochrane reviews should be compliant to the MECIR (Methodological Expectations of Cochrane Intervention Reviews) standards.
See also MECIR standards for Plain Language Summaries
Cochrane Training
This site provides access to a range of resources for authors writing a Cochrane systematic review. The resources include online modules, slide presentations, recorded webinars, information about Cochrane workshops all over the world, and links to essential handbooks and guidance.
Task Exchange
This is a platform Cochrane has developed to connect people who need help with their Cochrane reviews with people who have the time and expertise to help. The platform is for authors to use to post requests for help with aspects of a review, for example screening, translation or data extraction.